Sometimes you see a gaming chair that just happens to look fantastic, but does it live up to expectations? With the EWin Knight Series Chair review, we dive into one of the best looking models on the market, but it also has a fantastic level of support and it can help to support you on those longer gaming sessions. Many people even use it as an office chair while working a 40 hour week.
The chair has the unusual capacity to recline so that you are almost vertical, and it still gives you super support, this means there is a huge level of comfort and the chair is worth considering and reviewing.
Specifications
Material
PU leather; metal frame
Lumbar support pillow
yes
Warranty
2-year on material and workmanship; 10-year on the frame
Other features
5 design options; soft-glide wheels; 5-star aluminum base
Overall performance
It does the job perfectly. Below, we dive into the specifics of the Ewin Knight Series computer chair but it is fair to say that it does a brilliant job for people up to 400 lbs and even has some options in terms of the design and how it looks. This impressive chair uses fantastic materials, too, to ensure that it has a high level of performance whoever is using it.
Design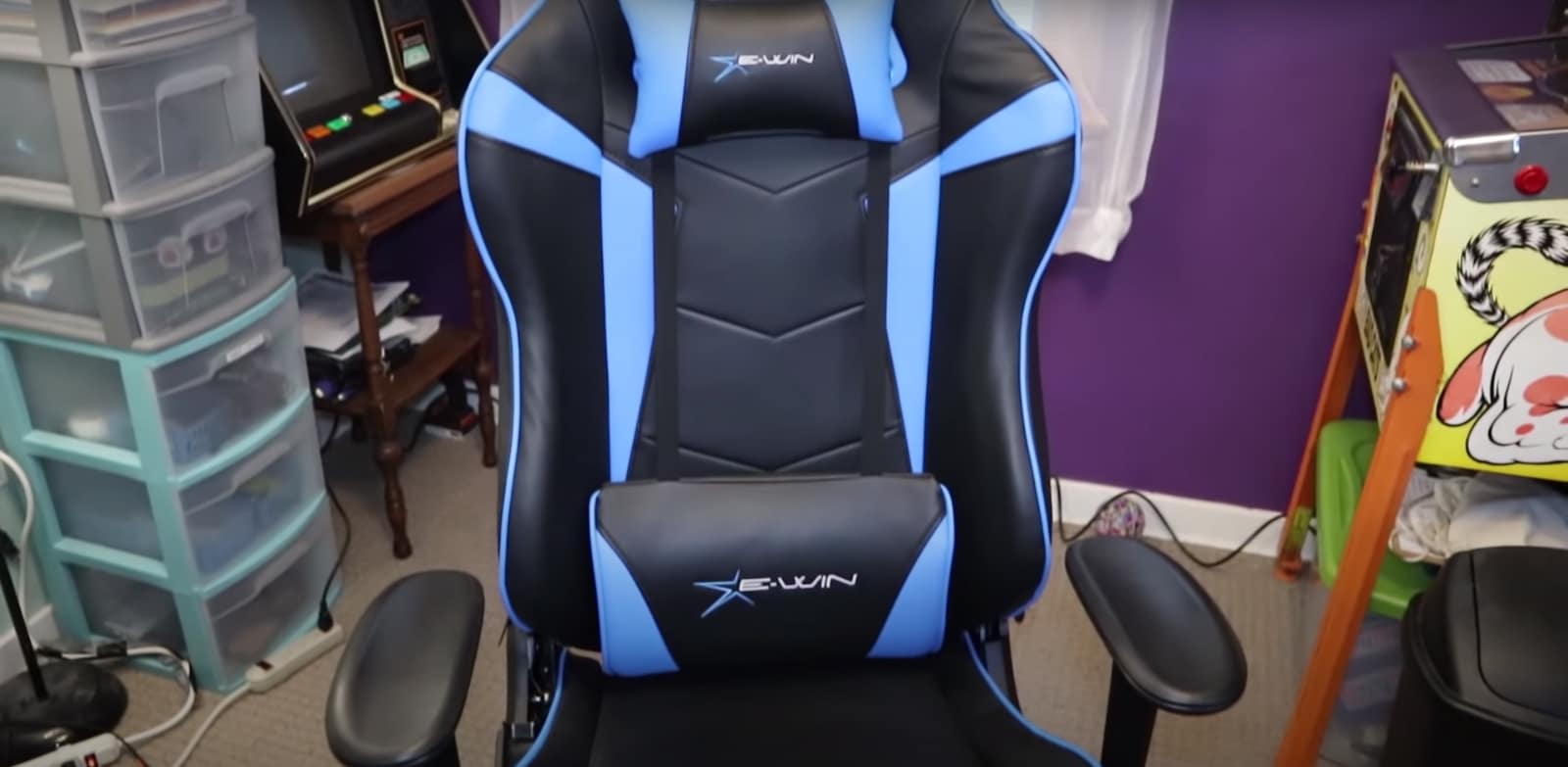 The look of the chair is something very special. It has the sort of design you would expect for a gamer, slick and obviously good for those who enjoy technology, and it comes with some cool accent colors so you can even match it up to the decor of your room.
It is worth mentioning the design in terms of how this chair reclines, which is something quite unusual. It reclines 85-155 Degrees, and it is super easy to adjust the sitting experience. Being reclined 155 degrees means a lot of weight going towards the back of the chair, but it is still totally secure so you won't go flying backwards. A clever design.
Materials used
The materials are one of the best things about this computer chair. Things you may not think about or really appreciate until you actually start using the chair.
The material you see on the outside of the chair is a PVC leather. This can get a little warm if you are in a hot environment, and can feel a bit sticky, but it has a really big benefit; it is stain-resistant. If you're a parent looking to buy this computer chair for your child then you will be very relieved to learn that it doesn't tend to get long-lasting stains and it is easy to wipe clean.
On the inside is a dense padding made specifically for the Knight Series. It has double the durability of usual foam, and is close to memory foam in its design. This is called cold-cure foam. It's designed to be breathable so it doesn't trap too much heat, and most importantly it is really comfy even if you're the sort of person who spends hours at your desk.
The metal frame is incredibly durable, too, so you don't have to worry too much about whether it is going to war over time. The long warranty offered by the manufacturers also helps with this.
Construction
When a chair is made to support 400 lbs of human you can rest assured that it is pretty reliable in its construction. The Ewin computer chair is well made with steel components and likely to last you years. Even the adjustable sections and hydraulics are very durable and built to last.
Support pillows
The matching design of support pillows sit at the head/neck area and in the lumbar area. Lumbar problems are really common when spending a lot of time gaming or sitting at a desk, so it makes sense to get some support in this area and make sure you don't develop these kinds of problems.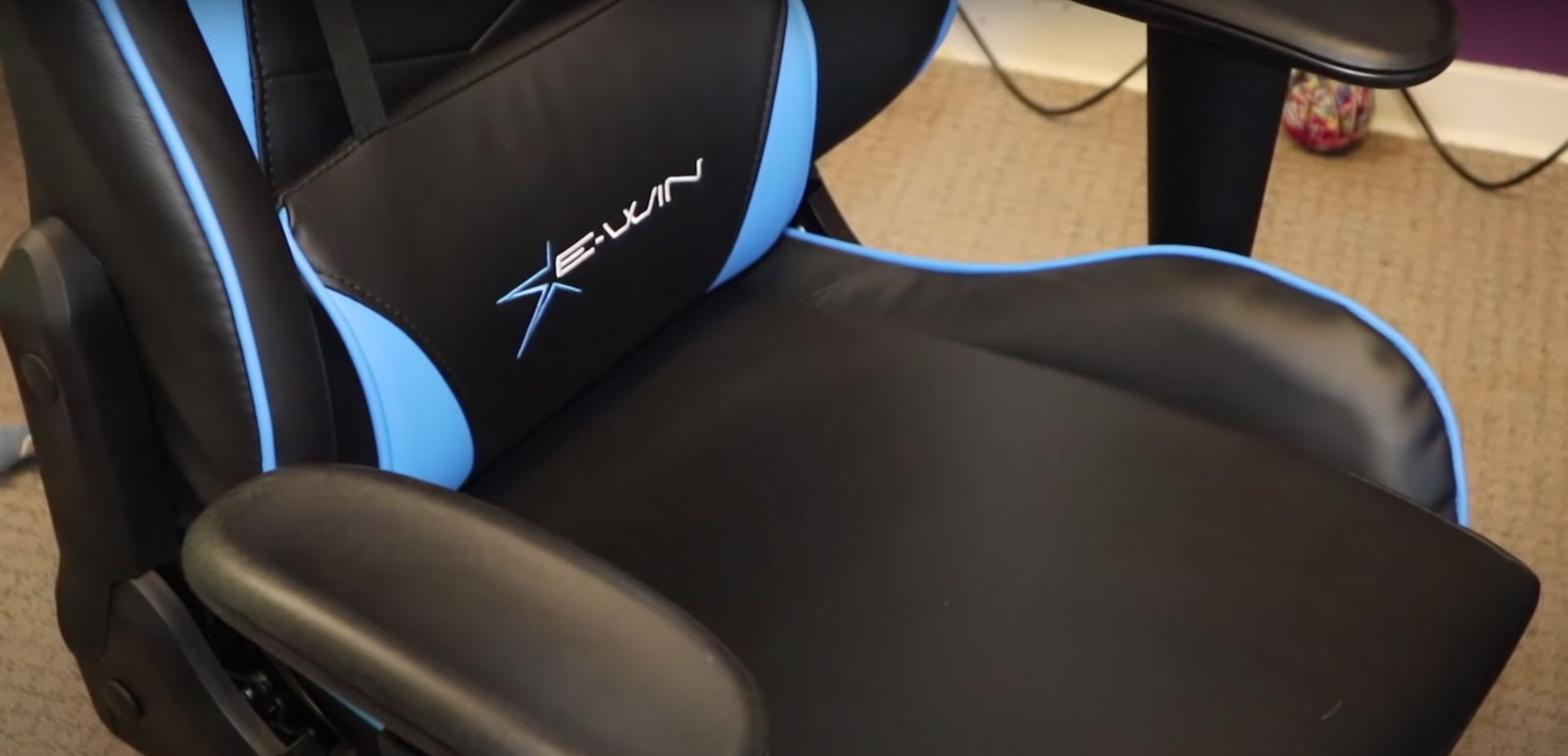 The pillows are pretty dense and supportive, but there is one potential issue in that the bottom (lumbar) pillow is not actually fixed in place. From time to time you might find that it moves around when you don't want it to. This isn't a huge issue, just a small thing that the manufacturer could maybe look at for future models.
Base and Wheels
The base and the wheels are well-designed, too. The PU casters provide you with enough support and the ability to roll around the floor with ease, but they are still pretty quiet, don't get affected by foreign objects they hit, and most importantly they prevent damage on the flooring.
Whether you've got a hard floor or carpet, the wheels are really high-quality and won't do any damage unless you really force them. It is so frustrating when you get a chair and it makes those little tears in your carpet or scuff marks on a hard floor.
All this combines with the nylon base to give plenty of support. As long as you put it together properly then you'll find that this chair is ideal for
Ease of setup
Do you need a degree in construction to put this thing together? No, it is super simple. Within the box comes all the tools you need for construction and a set of clear instructions, so it isn't too much of a challenge to put it together.
All told, it should take about 10 minutes to put together. This is easier if you have someone there with you, but don't worry too much if you don't, it can be done alone. The box even includes some handy gloves for you to wear while you put it together. There are eight screws in total, which is nice and manageable even if you aren't really one for DIY.
Maintenance
No real maintenance is required, at least not "scheduled" maintenance. Over time, you may wish to replace the casters on the bottom but this is really only if you have to. On top of that, it is possible (if not likely) that the screws may need tightening up. The main maintenance is to wipe away any potential stains. Even that becomes much easier with the simple stain-resistant cover.
Price
So, what's the price like? It would be inaccurate to say this was one of the cheaper models on the list. It's in the mid-range when it comes to price, at over $200, but it does have the features to back this up. Most importantly, the exceptional build-quality and materials give you the support you need for years to come, so you can ensure that it will last even though you have had to invest in it.
Warranty
Yes, you get a warranty, and it is far better than some of the other options that are on the market. You get 2-year on material and workmanship and an incredible 10-year on the frame. That's how confident Ewin is that their chair is going to live up to your expectations. If within the first two years you get issues that are caused by the structural integrity then you can make a claim, and even after this the frame is protected.
Key Features:

2D adjustable armrests.
A hydraulic lever to adjust the height.
Simple option to recline and even get into a napping position.
Quiet and damage-free casters.
Quality foam interior for superb comfort.
Comes with head pillow and lumbar cushion.
Who Should Get This Chair?
Who should buy this chair? Well, there are many people for whom it can be suitable. It works perfectly as both a gaming chair and as an office chair, and the comfy design means that you can use it even for long periods of time without having to worry. It doesn't have any super-quirky features, it is just an easily-adjustable chair with an amazing reclining option. If you want the option to chill out in your chair, maybe to watch a film, this can be a good choice.
On top of this it is really good for people who are likely to make a mess. The fact that it wipes clean so easily is good if you are the sort of person who is regularly snacking at your desk or if you are a parent buying for a kid who is likely to spill things.
PROS
CONS

Excellent reclining support.
Made from fantastic materials.
Comes with a generous warranty.
Quiet and smooth when rolling across the floor.

The surface of the material can get a little hot and clammy.
The lumbar support cushion doesn't stay in place.
Conclusion
Our Ewin computer chair review has covered all of the aspects you should be considering when you want to buy a chair for gaming or for your desk. It isn't the cheapest model going, but it is worth paying a bit more for if you want that next level of comfort. On top of that, the chair can last for years ad even has the warranty to back it up.